We offer the following services to our esteemed clients:
Air Duct Cleaning
Wood Floor Cleaning
Tile & Grout Cleaning
We not only offer residential services but are also exceptionally equipped to effectively handle commercial furniture and carpet cleaning projects. Tulip Carpet Cleaning Odenton also takes pride in its vast experience when it comes to rug cleaning. We will efficiently clean any rug.
What Do We Use to Clean Furniture
To clean furniture, we ensure that top-notch cleaning equipment is used together with the appropriate treatments for cleaning and stain removal. We ensure that we use treatments that are specific to the fabric of the furniture, such that we efficiently clean and maintain the strength of the fabric. Our cleaning treatments are also safe for the environment, for children, as well as for pets.
How Do We Deep Clean (Dirty) Furniture?
To ensure effective deep cleaning of dirty furniture, we use steam cleaning. The steam will loosen the dirt lodged deep in the fabric of the furniture, and after that, we vacuum out the moisture together with the dirt debris. This will leave the furniture sparkling clean.
What Is The Best Way to Clean Sofa Upholstery?
The best way to clean sofa upholstery is first to understand the type of fabric it is made of. It is then that the right cleaning solution is used to ensure that the durability of the material is maintained. Then the appropriate equipment is used to deep clean the upholstery and effectively remove stains. Finally, an odor-removing solution is used to ensure a fresh smelling piece of furniture.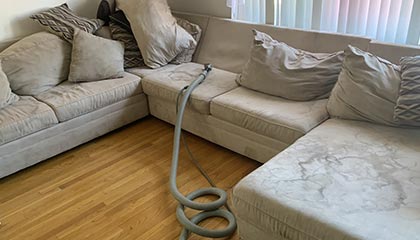 Efficient Furniture Cleaning in Odenton, MD
Cleaning your furniture is essential towards having an excellent quality of life, whereby you get rid of the dirt and allergens that trigger allergic reactions. Furniture fabric cleaning is also vital towards ensuring that the aesthetics of your home or office are maintained. We will ensure that your furniture looks as good as new after we are done with it. Our company has invested in high-tech equipment that facilitates the best steam cleaning as well as deep cleaning for your furniture upholstery. This ensures that no stain is too stubborn for us, and no cleaning project is too complicated for us. We are leaders in furniture cleaning in Odenton, MD, and are the best choice for our clients.
We understand that the furniture fabric cleaning method is dependent on the type of fabric, and different materials will require different approaches. Whether it is leather, microfiber, or even suede, we are highly knowledgeable and understand what each of these materials needs to stay clean and maintain its strength. We understand that the safety of your children, pets, or even the environment is key to all our clients. Hence we use eco-friendly cleaning solutions that are also friendly to children and pets alike.
Even if you feel like you could perform a DIY cleaning on your furniture, it is much more advantageous for you to engage a professional furniture fabric cleaning service provider. This is because they are highly equipped and skilled to be able to perform a deep cleaning on your furniture upholstery. Unlike your basic vacuuming, which may not deep clean your furniture upholstery, we will ensure that dirt and stains are entirely removed from your treasured furniture. When we work on your furniture, our primary goal is to ensure that we perform the best deep cleaning that will remove all dirt lodged in the upholstery fabric. We also employ the best stain removal treatment that will leave your furniture looking fabulous. Lastly, we have to ensure that your furniture is not only clean and sparkling but also smelling great with our effective odor removal solution.
Here's the Bottom Line
Our highly dependable furniture cleaning service in Odenton, MD, comes with an assured quality guarantee. We approach every client's needs differently, and we will perform our furniture cleaning in a manner that aligns with the particular preferences of our client.
We employ our expertise and use high-tech equipment to ensure fast service delivery. Your furniture will be sparkling clean in no time. We are a step above the rest. Kindly call us at 443-351-8822 for the most affordable furniture cleaning service in Odenton, MD. We are sure that you'll smile when you see the excellent cleaning results after your furniture cleaning in Odenton, MD.