Our water damage restoration services include the following:
Inspection
Water Removal
Regular Water Damage Restoration
Emergency Restoration
Flood Damage Restoration
Key Steps in Water Damage Restoration
1. Inspection
Some types of water damage only require portable machines and few workers. However, if flood restoration is needed, many workers and the biggest equipment are usually sent for efficient moisture damage removal.
The latter costs a lot. To make sure the right tools and the number of staff will be sent, an inspector has to evaluate the water damage first. Water damage has four classes based on the severity and extent.
Class 1 Water Damage
Of the four types of water damage, class 1 is the easiest to manage. This only involves a portion of the room. This may not even require professional water damage restoration.
Class 2 Water Damage
Under this classification, the water damage affected the whole room. This also means that the walls and carpets already absorbed much moisture.
Class 3 Water Damage
If the water damage already reaches the carpets, walls, and ceiling of an entire room, it's deemed as class 3. In some instances, the effects even extend to the neighboring rooms.
Class 4 Water Damage
This classification isn't necessarily the worst. Class 4 water damage simply means that specialty drying is needed. This is usually the case for stone, concrete and hardwood. If the water damage isn't that extensive, you may schedule the inspection for some other time. For emergency flood services though, the assessment is done on the same day that you call.
Flood Damage Restoration
Flood emergency due to a storm needs immediate cleanup. After all, there's a possibility that the water came from sewers that overflowed. Emergency flood services won't be cheap, but they prevent worse damage and health risks.
The inspection and water cleanup may be done in a day or two. However, the flood damage restoration may be completed once the storm is over.
Whether it's an emergency or not, Tulip Carpet Cleaning Odenton is always ready to provide water damage restoration in Odenton, MD. Be one of the many homeowners and businessmen who were spared from the troublesome water damage cleanup. Give us a call at 443-351-8822 to schedule water damage restoration.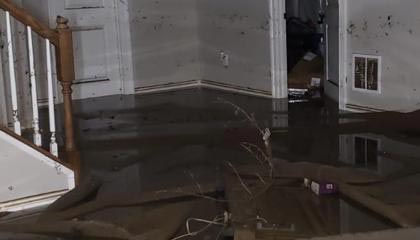 2. Water Removal
Letting the water stay for so long will worsen the damage and prolong your exposure to pathogens. It's only necessary to carry out water removal as soon as possible.
Water damage cleanup involves the use of a hose to collect the water in equipment (usually a truck). The water damage company treats the collected water to get rid of pathogens before disposing of it. This is especially useful when the water is from sewage systems.
3. Drying and Dehumidifying
The main step in water removal won't eliminate moisture. Some may still linger in carpets, curtains or upholstered furniture. Drying and dehumidifying are intended to get rid of the remaining moisture. For their DIY flood restoration, some homeowners sought portable fans and dehumidifiers. While doing so helps dry up a room, it will take weeks before it could remove moisture. In the case of the basement flood cleanup, it may even go for months.
Water damage restoration shouldn't last that long. With our equipment, we'll have your property dry again ASAP.
4. Cleaning
Water or flood damage restoration is mainly done for sanitary reasons. Water removal isn't enough to fulfill that. Some of the germs may have stuck in parts of the room or the things in it.
In Step 4, thorough cleaning of the things and the room are bound to eliminate the said pathogens. This also covers the removal of unwanted stains.
5. Restoration and Replacement
The process of water damage restoration won't be complete without fixing affected parts of the room. These mainly involve walls, flooring, and the ceiling. Depending on the extent of the problem, a partial or total replacement may be needed. For those that can be restored, they'll be cleaned and re-finished if possible.
The Importance of Water Damage Restoration
Water damage threat isn't something you can ignore. Whether it's due to flooding or plumbing problems, it can lead to daily inconveniences and costly repairs. The damage may also create an environment for microorganisms that cause infection.
Worst of all, the affected parts of your home (or workplace) may cause accidents and even death. If the damage is from sewer water, the bacteria in it might be the one triggering health emergencies. Water damage restoration prevents such risks. However, doing this improperly may leave additional damages or cause unsightly repairs.
Tips to Avoid Water Damage
Be on the lookout for mold growth, water stains, and wood rot in ceilings, walls, and floors.
Keep your drainage in good condition. If you encounter clogs and other plumbing problems, call a pro to inspect and fix them as soon as possible.
Clean your gutters and downspouts regularly.
Once a year or every few years, get professional inspection services. These should cover plumbing, roofing, flooring and HVAC and electrical systems.
If there's a great risk of a flood emergency, talk to your contractor. Consult him about the possible modifications to help you minimize the potential water damage in your home.
Emergency Services Available Now
When the worst happens to your property, you need help immediately. To make sure our customers get water damage restoration services as soon as possible, we have partnered with Flood Damage Pro, a local, certified, and experienced restoration company. We hope that this greater availability will benefit all our customers.
Call us now at 443-351-8822 for an immediate, professional response!